by an award winning company
As your business grows, so does the need for a bigger or more flexible work environment. We know obtaining and leasing a new premise can be a costly exercise, but have you thought about refurbishing your existing workplace?
Commercial office refurbishments or reconfigurations of existing office or commercial spaces allows for greater flexibility and is a common, lower cost approach for many businesses. If an office refurbishment is something your business is considering to improve your workplace, then discuss your needs with us Future Fitouts.
Refurbishments with Future Fitouts
Future Fitouts has extensive experience working in occupied office spaces or commercial environments that require expansion, reconfiguration or re-arranging office partitions while your business continues to operate as normal.
Major or disruptive works can be arranged outside business hours while minor works can be undertaken with minimal disruptions to staff and customers.
With a focus on safety, Future Fitouts ensures all areas are safely secured, appropriate site signage is displayed and contractors, sub-contractors, staff and other persons entering the site are inducted appropriately.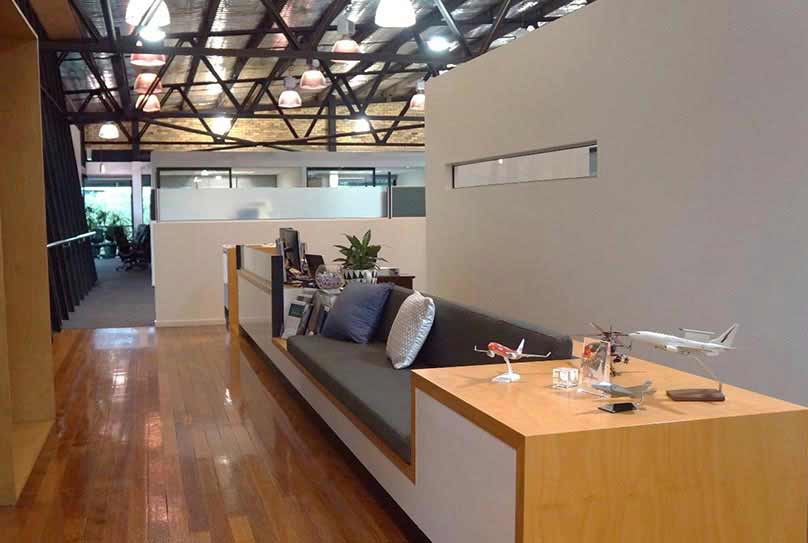 Could your workplace benefit from a commercial office refurbishment? The benefits listed below might help you make a decision as to whether a refurbishment is the right choice for your business and workspace.
Whatever business you are in, an office refurbishment can be hugely beneficial to transform your space into a practical and functional activity hub. This may include incorporating new office furniture such as; office desks and chairs that offer a better use of space. Partitions may also be included or re-arranged to divide work areas and make better use of your floor space. You may even wish to add a boardroom or common area or include decorative features to create a contemporary workplace that your employees will enjoy working in. With Future Fitouts, anything is possible with our office refurbishment Brisbane service.
Want to see an example of how Future Fitouts can achieve an ideal fitout for your office space? Take a look at the C&K Childcare Head Office refurbishment we delivered on time and on budget. For a full list of services we offer as part of our refurbishment and fitout services for office spaces, take a look at our Office Fitouts Brisbane page.
Future Fitouts delivers high-quality commercial refurbishments for large and small businesses alike across a range of industry sectors.
A commercial refurbishment can be a more cost effective solution rather than a full fitout and the small things can make a significant difference to your office. For example; changing or updating floor coverings, a fresh coat of paint, a feature wall in your company colours or an alternative layout solution to improve the space in your office.
Want some inspiration for your commercial refurbishment? Check out the commercial office refurbishment we delivered for Pickles Auctions and see for yourself how a refurbishment from Future Fitouts could improve your space. Visit our Commercial Fitouts Brisbane page for full details on the services that can be provided as part of our refurbishment services.
From your shopfront to your store interiors, a shop refurbishment from Future Fitouts can captivate your customers and entice them to enter your store. As part of our refurbishment services, we can incorporate custom joinery and shelving to display your stock effectively, add a pop of colour or decorative features such as glazing to make your store stand out or we can add shopfront signage to give your customers a lasting first impression.
Looking for the ultimate shop refurbishment for your retail space? Have a look at the amazing results we produced for the Coco Republic Showroom in Fortitude Valley. To find out more about the retail refurbishment and fitout services we provide at Future Fitouts for retail spaces, visit our Retail and Shop Fitouts page.
Future Fitouts can complete both simple and advanced refurbishments in all types of industrial spaces or work sheds; including the installation of stairs and mezzanine floors, as well as the delivery of high-quality carpentry and painting/plastering services.
Visit our Industrial Fitouts Brisbane page for more details on the fitout and refurbishment services we can offer for your industrial workplace.
…Future Fitouts responds promptly. Listens to your requirements. Builds to suit whatever you have discussed. Offers solutions for challenges and problems and competitive pricing. I have no hesitation in recommending Future Fitouts to those considering minor alterations or a complete fitout.
Satish Maganlal, Southbank Pharmacy
Choose Future Fitouts for Refurbishments in Brisbane
With a safe and timely delivery of your refurbishment without disrupting your day-to-day work, and complete project management from start to finish, Future Fitouts is your best choice for refurbishments in Brisbane.
Whether you need an office refurbishment, commercial refurbishment, retail refurbishment or an industrial refurbishment, we always provide a hassle free fitout service that produces excellent results every time.
Leave your contact details and we can arrange a complimentary inspection and quote.
Over 800 satisfied clients … and counting!!